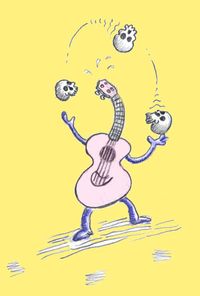 Because of the covid virus, many musicians are putting up video, and many are trying new and amusing things. Some are borderline genius, but you don't have to be a genius to put up something fun. 
On the album Roxy And Elsewhere, Frank Zappa introduces the song "Cheepnis" with a monologue about monster movies. If you like this kinda thing you'll agree with Frank. I certainly do. I'm going for goofy and a bit cheesy with my weekly videos. I hope you like them. 
The next video is this FRIDAY, March 12 at noon Pacific Time. 
The weekly videos are covers of classic 60s songs. 
I will stream a show of originals, with songs from my new album, Surf Monster... Thursday, March 25 at 6:30 Pacific Time. 
The weekly videos and the stream can be seen on my YouTube channel.