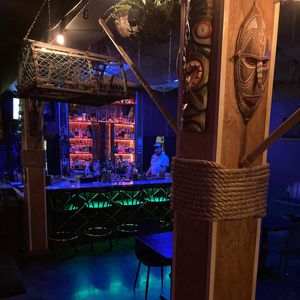 One of my favorite scary stories from middle school English class was "The Monkey's Paw" by W. W. Jacobs. A creepy talisman from an exotic land causes badness. Imagine my delight when a Tiki Bar opened in Springfield called... Yes!  The Monkey's Paw. I've been there a few times but our bass player, James Daley from El Borko Surf! goes there all the time.
Well James landed a Halloween show at the Tiki Bar. Three of the most fun things all at once. We took a sax player (Russell Sweet) who played great and our drummer Cam Wick sang "Teenage Werewolf" and played like a beast. Lotsa costumes, conga line during 'Tequila' and a good time had by all.
The Monkeys Paw is at 420 Main St. in Springfield. Go there...