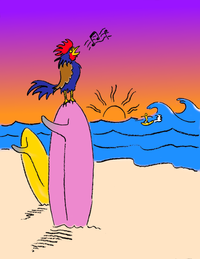 One of my favorite albums is by the Finnish group Värttinä. I don't know a word of Finnish, but those women harmonize so well, they could be singing the Amazon Prime service agreement and I would like it. So as a person who likes instrumental music best, I realized that I prefer to hear the human voice as an instrument. 
What about lyrics? Well, lyrics distract you with their story or poetry, and despite the power of speech and music combined, I'm more interested in what music can do without words. Vocal music may consist of lyrics or gibberish. Lyrics in an unknown language are gibberish. The sound of a language is a sonic texture. Imagine a song sung first in Spanish and then Korean. It's like playing it on a different instrument. 
I present as evidence the following links. I hope you enjoy them. Do the lyrics even matter? 
The Joy: Imali: https://youtu.be/3AEytze0s40 
Neri Per Caso with Noemi: Come si cambia: https://youtu.be/aJbLFet4k8c 
Värttinä: Tuulen Tunto: https://youtu.be/U2K5Ipd0Rzw