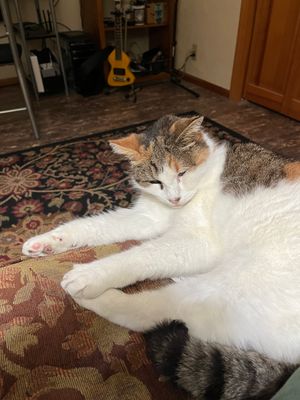 Once when I was a kid, my brother and I made a lion's mane out of construction paper and taped it to the dog. Then we got a hula hoop and did a lion-tamer circus act. Our mom was unimpressed. 
The other day I wondered, "what if she had really believed the dog was a lion?". Would we have carried on with the act? Would she have dragged us off to a safe place? We will never know. 
This got me thinking about the question of being taken seriously. People have expectations about the things we release into the world. You need to live up to your fable. Recently, I got this desireable gig. Problems developed right away. My PA is too small for the room. The date was moved, some band members couldn't make it. The new date clashed with another band member's other band's other gig. 
The result? My friend Tim will run the sound with his PA and sit in for a couple of songs. We found a sub for the missing member. The other band will play an opening set. I told 'em we'd shoot video, so now we gotta find someone to do that. 
I could be stressed about this, but I'm actually enjoying how this show is evolving into something more fun than I had imagined, and... I have something to blather about. Best of all, the show is three weeks away. It's gonna be cool. You should come.